Democratic Club of Sunnyvale
The active, friendly Democrats of Sunnyvale, CA
Mission
To help people learn about issues, elect Democratic candidates, and to foster leadership, the Democratic Club of Sunnyvale works to:
Hold regular meetings to educate members and the public on issues.
Influence state party positions.
Increase Democratic Party registration.
Mobilize volunteers.
Publicize issues and events.
Work to raise the profile of the Party locally.
Continually recruit new members and encourage youth involvement.
Seek to have new energy and create a vital and energetic group.
Values
These Democratic Party values were discussed at our meeting on February 27, 2011.
We came up, in 45 minutes, with a consensus around five key values.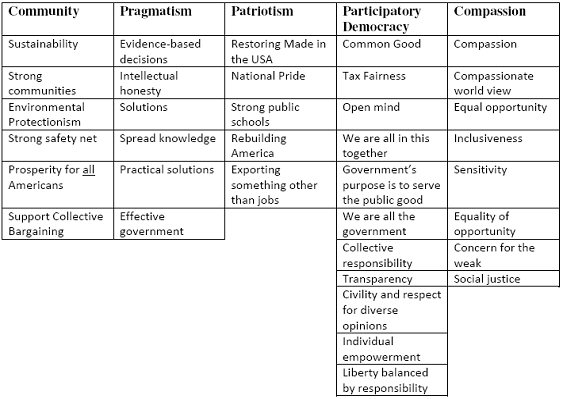 At the end of the meeting one of the participants commented that these values do not all seem to be uniquely Democratic ones. Actually, there are indeed some key differences in what values we emphasize compared to what Republicans or members of other parties emphasize. But it's important to note that the biggest differences between the parties are in what we believe are the correct strategies for achieving the preservation of the values that we hold, rather than the values themselves. If we can articulate what these core principles are, we will have much more success and understanding about how to counter Republican frames and will be able to more easily handle the kinds of infuriating rhetoric that we commonly encounter in the media and other venues.