WELCOME
The Democratic Club of Sunnyvale is an active and welcoming group that promotes progressive, Democratic values and positions. We provide a welcoming group for those in the Sunnyvale, CA, area to meet and promote Democratic causes. Join us to meet other people in this major Silicon Valley city where you can make the most use of your Democratic ideas and energy!
---
October Meeting

:
County Ballot Measures: Measure A - Affordable Housing and Measure B - VTA Tax Measure
The October Meeting will feature discussions of these two critical Santa Clara County Ballot Measures.
See information about the measures below.
October 15th  * 2 to 4pm  *  Fairbrae Swim Club  *   696 Sheraton Ave. *   Sunnyvale CA
---
ELECTION
---
The Club has voted to OPPOSE Measure M - "Public Lands Act" on the November ballot . Check out SaveOurSunnyvale.org for more information!
---
Measure A - Santa Clara County Affordable Housing Bond Measure
The $950 million bond will provide affordable housing for thousands of our community members, including:
$700 million for our most vulnerable populations, including Supportive Housing for our homeless residents;
$100 million for low-income families;
$150 million for working families and first-time Homebuyer programs
---
Measure B -Santa Clara County VTA Tax Measure
Finish the BART extension to downtown San Jose and Santa Clara
Relieve traffic congestion on all 10 Expressways (Almaden, Capitol, Central, Foothill, Lawrence, Montague, Page Mill, San Tomas, Santa Teresa/Hale) and key highway interchanges
Protect and enhance transit options for seniors, the disabled, students and the poor
Repair roads and fix potholes in all 15 cities
Improve bicycle and pedestrian safety, especially near schools
Increase Caltrain capacity, easing highway congestion and improving safety at grade crossings
Connect BART and Caltrain in downtown San Jose and Santa Clara, with platform-to-platform connections, to finally provide rapid rail around the entire Bay Area
---
UPCOMING EVENTS
---
League of Women Voters Events
The League of Women Voters is sponsoring several candidate forums and Pro/Con presentations for State ballot propositions and local measures on the November ballot. Check out their flyer for upcoming events.
---
Meet the "Trifecta of Terrific Women Candidates"
Thursday evening, October 6th, 7 to 9pm
Did you know we only have one woman on our City Council of 7 and she is defending her seat in this election?
That we only have one other woman in our Council election and she is running for the first time against a tough incumbent?
And at the State level, did you know that we have less than 24% of our Assembly members who are women?
Think about how different our government could be if we had equal (or even just more!) representation by women.
Please come and meet the only three women candidates running in November to represent us.    
Vicki Veenker for State Assembly District 24
Nancy Smith for Sunnyvale Council Seat 6
Tara Martin-Milius for Sunnyvale Council Seat 7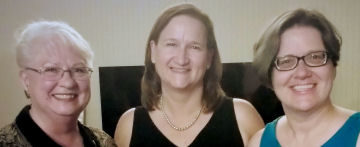 Tara, Vicki and Nancy
The focus will be on a relaxed atmosphere where neighbors and friends can ask questions.   
Donations are welcome but not required!
Refreshments will be served
Sue and Mike Serrone's home
665 Winggate Dr., Sunnyvale
---
Events to support Hillary for President in California
---
Club Committees
DCS currently has several active committees and task forces:
Affordable Housing Committee: Developing a Club plan for addressing the lack of affordable housing in Sunnyvale and other income equality issues. To join, contact affordablehousingcommittee@sunnyvaledems.org.
Wage Theft Committee: Working on issues related to stopping Wage Theft in our community. To join conact Carol Weiss at carolrlweiss@gmail.com.
Age Friendly Committee : Looking at ways to make Sunnyvale more Age Friendly. To join the committee, contact Nancy Smith at ncsmith@gmail.com
Hospitality Committee: Providing refreshments and other activities for our Club meetings. To support the committee or to volunteer to bring snacks contact Marge Goka at teardropowner@gmail.com.
---

EVENTS

---

October 15th Meeting
VTA Bsllot Measure.

All Meetings
Third Saturday of the month
2pm to 4pm
Fairbrae Swim Club
696 Sheraton Ave.
Sunnyvale, CA



ENDORSEMENTS
Vicki Veenker for AD24

Sunnyvale City Council
Nancy Smith - Seat 6

Larry Klein and John Cordes- dual endorsement for seat 4

Ro Khanna and Mike Honda

(dual endlorsement) for U.S. Congressional District 17

The Club opposes this measure!
ISSUES
---
| | | |
| --- | --- | --- |
| | | |
| | | |
| | | |
| | | |
| | Sunnyvale Public Lands Act | |
| | | |